Fassbinder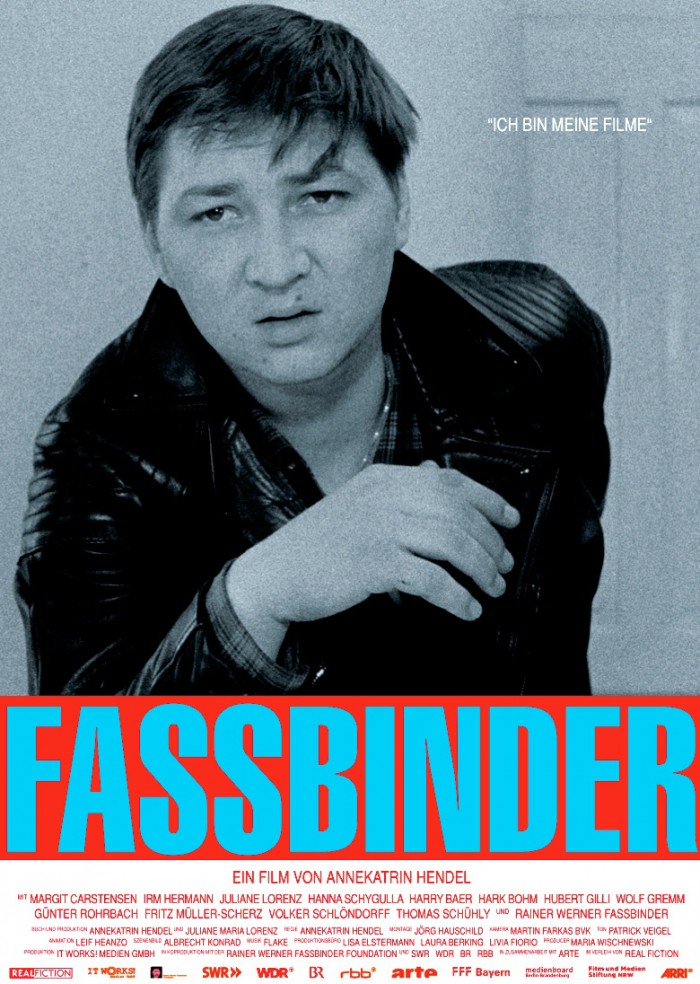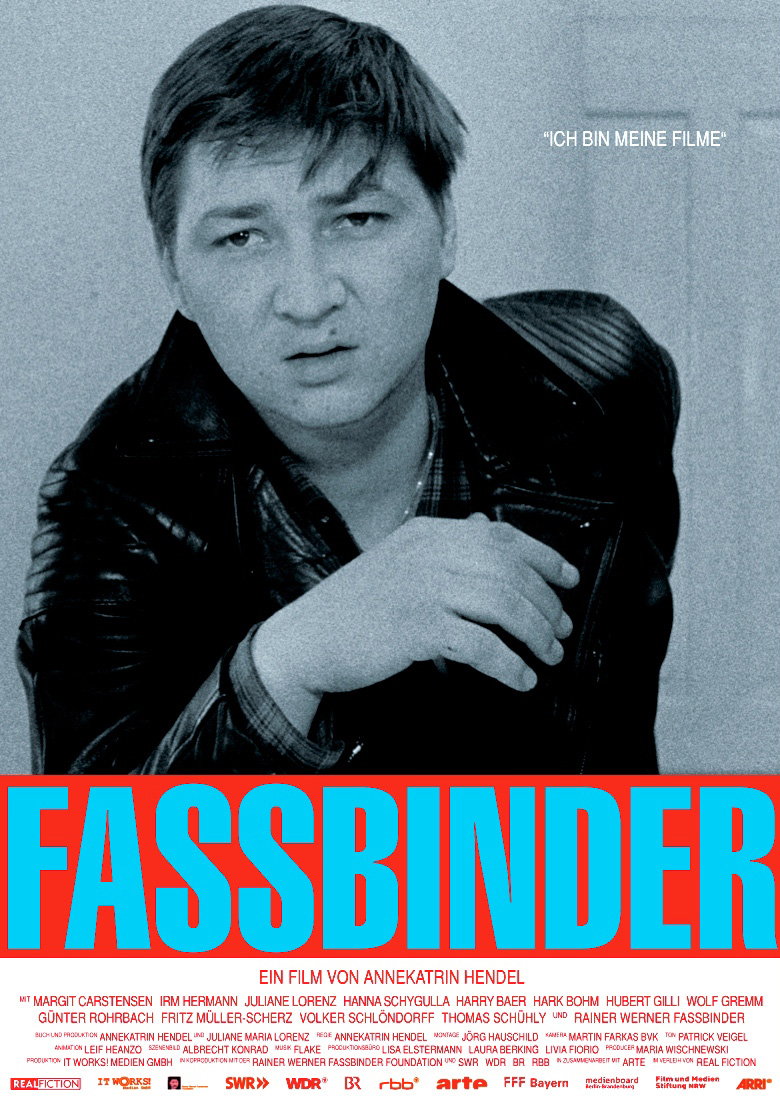 Fassbinder
Ein Dokumentarfilm von Annekatrin Hendel
Dokumentarfilm von Annekatrin Hendel
Dokumentarfilm, 90 min
FASSBINDER
Dokumentarfilm von Annekatrin Hendel
mit Margit Carstensen, Hanna Schygulla, Irm Hermann, Juliane Lorenz,
Harry Baer, Hark Bohm, Hubert Gilli, Wolf Gremm, Günter Rohrbach, Fritz Müller-Scherz, Volker Schlöndorff, Thomas Schühly und Rainer Werner Fassbinder
Regie: Annekatrin Hendel
Buch: Annekatrin Hendel, Idee Juliane Maria Lorenz
Kamera: Martin Farkas
Schnitt: Jörg Hauschild
Animation Leif Heanzo
Szenenbild: Albrecht Konrad
Musik: Flake
Produktionskoordination Lisa Elstermann
Producer Maria Wischnewski
Herstellungsleitung Heike Günther
Postproduction Supervisor Renè Hendel
Redaktion: Simone Reuter (SWR), Petra Felber (BR), Andrea Hanke (WDR), Rolf Bergmann (rbb)
IT WORKS! Medien in Koproduktion mit der Rainer-Werner-Fassbinder-Foundation
Produktion Annekatrin Hendel und Juliane Maria Lorenz
Documentary, Germany 2015, 90 Min
Director: Annekatrin Hendel
Script: Annekatrin Hendel based on an idea by Juliane Maria Lorenz
Cinematography: Martin Farkas
Creative producer: Maria Wischnewski
Editing: Jörg Hauschild
Animation: Leif Heanzo
Production design: Albrecht Konrad
Music: Flake
Editorial: Simone Reuter (SWR), Petra Felber (BR), Andrea Hanke (WDR), Rolf Bergmann (rbb)
Festivals
− Welturaufführung: International Documentary Film Festival Amsterdam 2015 (IDFA)
– Stockholm International Film Festival 2015
− Festival des deutschen Films 2015, St. Petersburg
− 15th Docpoint Festival 2016, Helsinki
− Kino! 2016 Festival of German Films, New York
− 18. Festival des deutschen Films 2016, Madrid
− Hot Docs at Palace Festival 2016, Melbourne, Canbarra, Sydney
− Festival des deutschen Films 2016, Buenos Aires
− 15. Deutschen Filmwoche 2016, Mexiko
– German Currents-Festival- Los Angeles 2016
− International Documentary Film Festival Australien 2016
– Festival des Deutschen Films in China 2016
– Febio-Fest Prag 2017
– International Documentary Film Festival Moskau 2017
– Festival des Deutschen Films auf den Philippinen 2018
− IDFA-International Documentary Film Festival Amsterdam 2015
– Stockholm International Film Festival 2015
− Festival of German Films 2015, St. Petersburg
− 15th Docpoint Festival 2016, Helsinki
− Kino! 2016 Festival of German Films, New York
− 18. Festival of German Films 2016, Madrid
− Hot Docs at Palace Festival 2016, Melbourne, Canbarra, Sydney
− Festival of German Films 2016, Buenos Aires
− 15. Deutschen Filmwoche 2016, Mexico
– German Currents-Festival- Los Angeles 2016
− International Documentary Film Festival Australien 2016
– Festival des Deutschen Films in China 2016
– Febio-Fest in Prag 2017
– International Documentary Film Festival Moskau 2017
– Festival des Deutschen Films auf den Philippinen 2018
Synopsis
Kein deutscher Filmregisseur war umstrittener, produktiver und besessener als Rainer Werner Fassbinder. Als er 1982 mit nur 37 Jahren stirbt, hat er die Bühne revolutioniert und ein Gesamtwerk von 44 Filmen und Fernsehserien hinterlassen. Keiner vor oder nach ihm hat in einer so kurzen Schaffensphase die deutsche Gesellschaft derart schmerzhaft und wahrhaft porträtiert und polarisiert.
Mehr als dreißig Jahre nach seinem Tod eröffnet Annekatrin Hendel mit einem Kunstgriff einen neuen Zugang zum Phänomen Fassbinder. Sie lässt den Filmrebellen seineGeschichte in weiten Teilen selbst erzählen, indem sie autobiographische Elemente seiner Werke mit bisher unveröffentlichten Passagen aus seinem schriftstellerischen Frühwerk und Selbstzeugnissen seltener Interviews miteinander verschweißt.
Der Film zeigt Fassbinders erste künstlerische Ambitionen als Internatsschüler, die Zeiten der Unruhe und des Aufbruchs, seine skandalöse Lebensweise und erzählt davon, mit welch rasender Energie Fassbinder die deutsche Kulturlandschaft umpflügt. Der erste Film "Liebe ist kälter als der Tod" wird auf der Berlinale 1969 noch ausgepfiffen. Mit "Die Sehnsucht der Veronika Voss" gewinnt der Regisseur kurz vor seinem Tod den lang verdienten Goldenen Bären.
Wie er mit seinen Mitarbeitern, Schauspielern, Rivalen und Liebesabenteuern, den Machtkämpfen und seiner offen zur Schau gestellten Bisexualität umging, ist in der Begegnung mit seinen Stars zu erfahren – Hanna Schygulla, Irm Hermann und Margit Carstensen und von Weggefährten, Freunden und Förderern wie Harry Baer, Thomas Schühly, Günter Rohrbach, Volker Schlöndorff und Juliane Lorenz. Der Film erzählt von siebenunddreißig Jahren Selbstverbrennung und lässt ahnen, woher das enfant terrible des Neuen Deutschen Films seine Wut nahm und den Glauben, die Frechheit, den Willen und die Durchsetzungskraft, das zu werden, was er war. Fassbinder- eine beispiellose Symbiose zwischen Leben und Film.
No German director was more controversial, more productive and more obsessed with film making than Rainer Werner Fassbinder. When he died in 1982, aged only 37, Fassbinder has revolutionized theater and left behind a total of 44 self-directed films and TV series. No one before or after him was able to portray German society as truthful and hurtful and polarize as strongly as Rainer Werner Fassbinder.
More than 30 years after his death, director Annekatrin Hendel opens up a fresh approach and provides new access to the phenomenon that is Fassbinder. She enables the filmmaker to tell his own story by connecting his films' autobiographical elements to previously unpublished written works and interviews. The film tells the story of a young boarding student with blossoming artistic ambition, goes on to talk about his scandalous lifestyle and the ways in which he transformed the cultural landscape with his raging energy. Fassbinder's first film "Love is colder than death" is booed by the audiences of the 1969 Berlin Film Festival. In 1982, shortly before his death, the director wins the Berlin Film Festival's Golden Bear for " Veronika Voss."
The viewer finds out how Fassbinder interacted with his actors, rivals, and lovers, and how he dealt with the power struggles and his bisexuality via interviews with his stars such as Hanna Schygulla, Irm Hermann, and Margit Carstensen and with friends and sponsors such as Harry Baer, Thomas Schühly, Günter Rohrbach, Volker Schlöndorff, and Juliane Lorenz. Fassbinder deals with 37 years of self-immolation and allows the viewer to perceive a picture of the origin of Fassbinder's anger, will, boldness, and self-assertion that allowed him to become what he was and is. Fassbinder – an unparalleled symbiosis between life and film.
Contact
VERLEIH
RFF – Real Fiction Filmverleih e.K. Hansaring 98
50670 Köln

Tel: +49221 9522-111 info@realfictionfilme.de
realfictionfilme.de
WELTVERTRIEB
R.W.F. Werkschau GmbH Giesebrechtstraße 7 10629 Berlin

Tel. +4930 8872 49-0 info@fassbinderfoundation.de
fassbinderfoundation.de
PRODUKTION
IT WORKS! Medien GmbH Gneiststr. 19
10437 Berlin

Tel: +4930 4467 6701 office@itworksmedien.de
PRESSEBETREUUNG
filmcontact Kastanienallee 79 10435 Berlin

Tel: + 4930 2790 8700 info@filmcontact.de
filmcontact.de
IT WORKS! Medien in Koproduktion mit der Rainer Werner Fassbinder- Foundation, SWR, BR, WDR und rbb und dem MDR in Zusammenarbeit mit Arte, gefördert vom Filmförderfonds Bayern, Filmstiftung NRW, Medienboard Berlin-Brandenburg,
im Verleih von realfiction
DISTRIBUTION
RFF – Real Fiction Filmverleih e.K. Hansaring 98
50670 Köln

Tel: +49221 9522-111 info@realfictionfilme.de
realfictionfilme.de
WORLD SALES
R.W.F. Werkschau GmbH Giesebrechtstraße 7 10629 Berlin

Tel. +4930 8872 49-0 info@fassbinderfoundation.de
fassbinderfoundation.de
PRODUCTION
IT WORKS! Medien GmbH Gneiststr. 19
10437 Berlin

Tel: +4930 4467 6701 office@itworksmedien.de
PUBLIC RELATIONS
filmcontact Kastanienallee 79 10435 Berlin

Tel: + 4930 2790 8700 info@filmcontact.de
filmcontact.de
IT WORKS! Medien in co-production with the Rainer Werner Fassbinder Foundation, SWR, BR, WDR, and rbb, in collaboration with ARTE, funded by Filmförderfonds Bayern, Filmstiftung NRW, and Medienboard Berlin-Brandenburg, distributed by Real Fiction
---